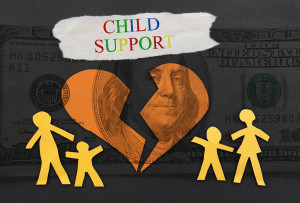 The National Parents Organization recently announced a large child support project it is undertaking over the next year.
According to the NPO blog, the project will be "the first comprehensive study of child support policies from the point of view of the entire family. Up until now, almost all of the millions of pages devoted to the topic of child support have only been about the wellbeing of the custodial parent."
DadsDivorce recently interviewed Ned Holstein, MD, MS Founder and Chair of the Board of the NPO about the upcoming study. We asked him why such a project is necessary and discussed why the modern child support system is so flawed. 
Why do you feel it's necessary for the National Parents Organization to examine the child support system?
The National Parents Organization is the largest family court reform organization by a good bit and we think it's important for us to undertake a major, major analysis of the child support guidelines in each of the 50 states.
Specifically, what aspects of the child support system will the study examine?
The first question to ask is, "What are the child support guidelines?" Each state writes a formula that governs how much child support has to be paid and that formula is given the name "child support guidelines."
It's actually an arithmetical formula and in most states it takes into account things such as how much each parent earns, how many children there are, how old the children are and occasionally a couple other matters. When you pump the answers into that formula you come up with a dollar amount that has to be paid.
The first thing people need to know about the child support guidelines in most states is they were actually written by women advocates and inside lawyers. They were not written by child advocates and as a result of this the child support guidelines in many states are far too high.
In fact, several distinguished economists with academic positions have recently looked at child support guidelines for the first time from that point of view and concluded that in many states they are two to three times higher than what it actually costs to raise a child.
We're going to be the first ones to ask if there can be harm from child support orders that are too high. Everyone understands that if a child support order is too low, that's not good for children. But no one's ever asked the question about orders that are too high. And we would say the answer to that is very clear-cut.
What are some potential adverse effects from disproportionately high child support orders?
There are numerous adverse effects for children if child support orders are too high, meaning considerably more than it actually costs to raise a child.
First of these is that it causes bitter custody battles, because if the child is carrying a brick of gold in its knapsack that will go to whichever parent wins the custody battle, many parents are going to engage in bitter custody battles so they can get the pot of gold.
Secondly, it creates resistance to shared parenting since in many states, as is appropriate, the child support order is diminished somewhat if both of the parents are doing parenting because then they both have expenses.
Thirdly, it causes the payor to have to work long hours – 60, 70, 80 hours per week. If your father is working 80 hours per week then when do you get to see him? When you do get to see him, he's going to be tired and what he basically wants to do is sit in his armchair and have a drink.
Child support orders that are too high can also lead to one of the parents becoming impoverished and they then generally have to live far away from the child, so it's a long trip to that house. It tends to be in a rundown neighborhood compared to where they lived when the parents were together.
Lastly, it's common for the payor to have subsequent children from new relationships. That's only human. Both men and women want to have a life with loving children in their own homes.
When the payor has subsequent children, frequently what we find is that those children are living in substandard conditions while the children of the first wife are taking European skiing vacations. In fact, NPO has thousands of stepmothers among our most passionate members because they say that's exactly what's happening.
They see their husband's kids living in clover while their own kids are running around with holes in their sneakers.
We don't believe in the one-palace, one-shack solution to child support.
What is the status of the project and when do you expect to complete it?
We are just getting it underway, but it will take us at least a year to finish because it is extremely broad-ranging.
We are going to start by looking at issues as to who writes child support guidelines and is it in fact people who actually know anything about economics, who know anything about children, who know anything about child support? Are they people who are truly interested in the best interest of children or are they interested in other agendas? In many cases, they are written by insider attorneys and also advocates for women who have their own axes to grind and are not purely interested in the best interest of the child.
We also want to look at whether the process is transparent. Does the public actually know that child support guidelines are being reviewed? Do they know that they will have the force of law? Are there elected representatives involved? Are there public hearings? Is there public discussion?
You can up the child support guidelines amounting to thousands of dollars for people who are both paying and receiving child support and there is no public process. Is this democratic? Is it accountable? Who's making this up? We need to examine that because in many states it's not being done in a manner that is both accountable democratic and transparent.
There are a large number of issues here that have to be discussed and analyzed and written about that have never been put together with the same philosophy and the same place.
Our philosophy at NPO is very simple. We don't believe in the one-palace, one-shack solution to child support. We believe in the two-condo solution to child support and we think that in many cases the child support guidelines are actually harming children.
Ned Holstein, MD, MS, is founder and board chair of the National Parents Organization.